Versatile Chocolate Box Packaging Items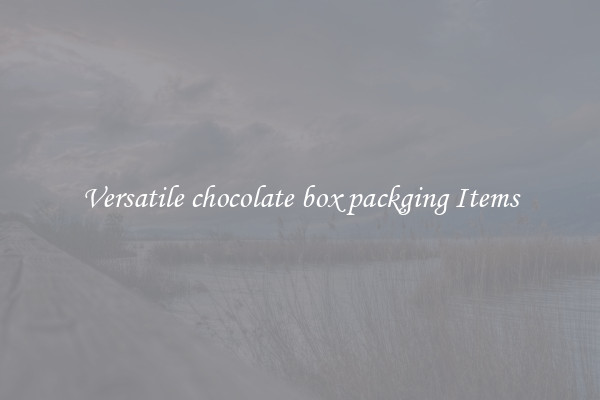 When it comes to packaging, it's not just about protecting the product, but also presenting it in an attractive and appealing way. This is particularly important when it comes to chocolate, as the packaging plays a significant role in enticing the consumer to make a purchase. Versatile chocolate box packaging items offer the perfect solution by combining functionality and aesthetics in one.
One such versatile packaging item is the magnetic closure chocolate box. With its sleek and modern design, this box not only keeps the chocolates safe and fresh but also adds a touch of elegance to the presentation. The magnetic closure ensures that the box stays securely closed, making it perfect for gifting or for keeping the chocolates stored for later consumption. Additionally, the magnetic closure is easy to open and close, adding to the convenience factor.
Another versatile packaging item is the window chocolate box. This box features a clear window that allows the consumer to see the delicious chocolates inside without having to open the box. This not only enhances the visual appeal but also gives the consumer a sneak peek of what they can expect when they purchase the box. It's an excellent marketing tool as it allows the product itself to do the talking.
For those looking to add a personal touch, customizable chocolate box packaging items are the way to go. These boxes can be personalized with the customer's name, special message, or even a company logo. This adds a unique and individualized element to the packaging, making it stand out from the rest. It's a great option for special occasions like birthdays, anniversaries, or corporate events.
Furthermore, eco-friendly chocolate box packaging items are gaining popularity in today's environmentally conscious world. These boxes are made from recycled or sustainable materials, reducing the carbon footprint. They are not only good for the planet but also appeal to consumers who prioritize eco-friendly choices. Eco-friendly packaging shows that the brand cares about sustainability and resonates with environmentally conscious consumers.
Lastly, foldable chocolate box packaging items offer convenience and practicality. These boxes are designed to be easily assembled and disassembled, making them perfect for on-the-go consumption. For example, a foldable box can be unfolded into a serving tray, allowing the consumer to enjoy the chocolates without having to transfer them to a separate plate. This makes it ideal for picnics, parties, or any situation where convenience is key.
In conclusion, versatile chocolate box packaging items have revolutionized the way chocolates are presented and enjoyed. From magnetic closure boxes that add a touch of elegance, to window boxes that showcase the delicious treats inside, there are plenty of options to choose from. Personalized, eco-friendly, and foldable boxes offer additional benefits to cater to different needs and preferences. With these versatile packaging options, enjoying chocolates becomes a truly delightful experience.